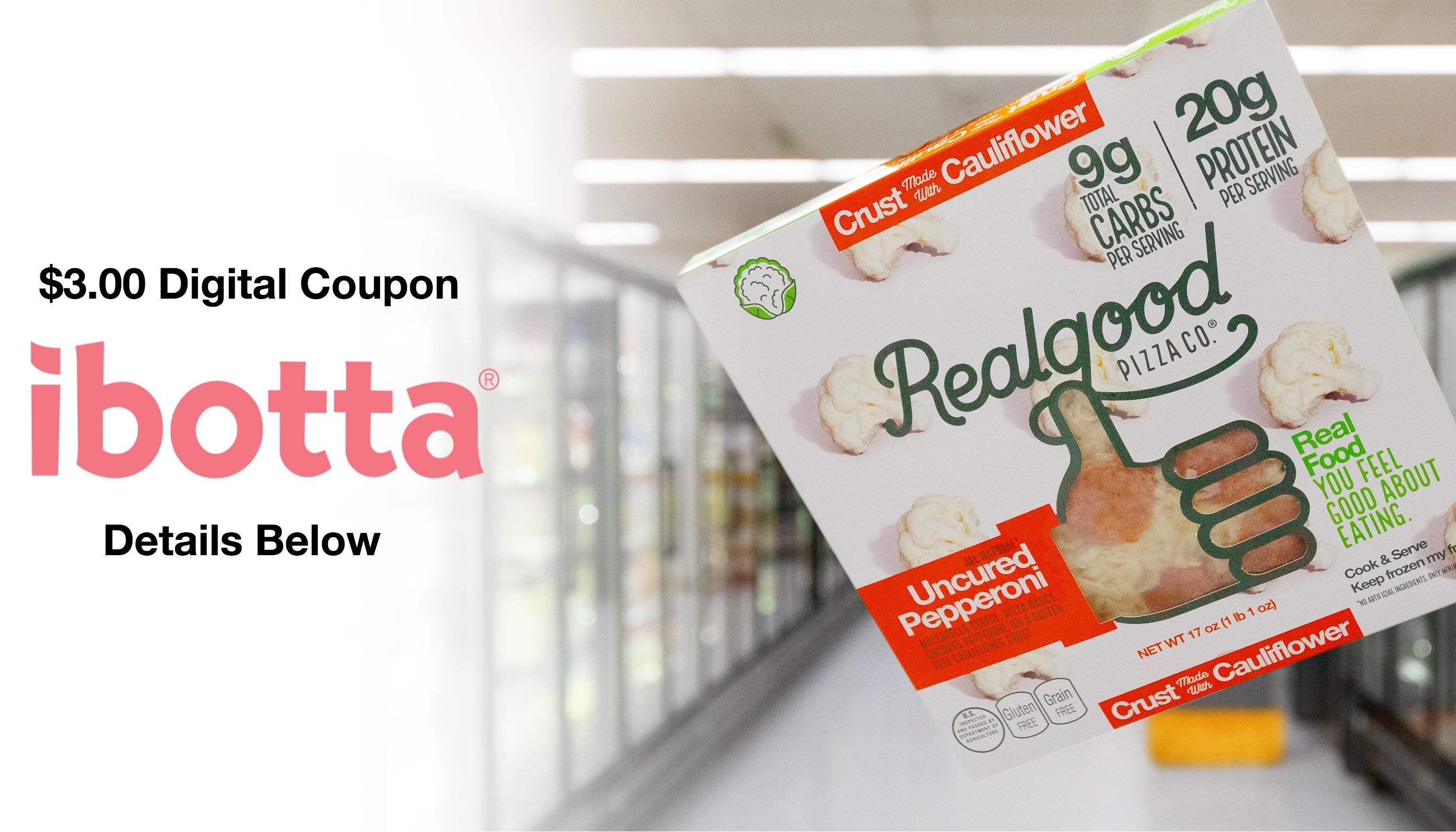 Get $3.00 Off RGF Pizzas with Ibotta
Real Good Fam,
You've all been asking a lot of questions about our $3 Off Ibotta Coupon and we've got all the answers.
Ibotta is the leading cash back app in the US. used to earn cash back on in-store and mobile purchases with receipt and/or purchase verification. Here's a breakdown on how you can use Ibotta to redeem $3 OFF Real Good Foods Pizzas – including our NEW Golden, Thin & Crispier Cauliflower Crust Pizzas. You're going to be an Ibotta Expert by the time you finish this blog.
Let's jump into it:
Step 1: Add Offers to your Account
Open the Ibotta app to get started. Make sure you've logged in and completed the registration process.

Find offers! Search "Real Good Foods" in the "Search retailers & offers" bar
      3. Add Offers! Hit the + next to the offer and select your retailer. Then hit "Add $3.00 Back"
Step 2: Go Shopping
After adding offers to your account, they will be added to your My Offers list. Buy these items at your selected retailer.
Step 3: Redeem
Ibotta users receive credit for eligible and successful redemptions within 48 hours. Depending on the retailer, there are three ways to redeem offers:
Manual Receipt Submission:
Tap "Redeem" on the Navigation Bar. Select the appropriate Retailer.

Take clear photos of your receipt and select any eligible offers.

Some of our supported retailers will require you to scan a QR code or receipt barcode in order to redeem your offers.

If prompted, scan the barcodes of your selected products.
Step 4: Earn Cash!
The best part about Ibotta is that you earn real money back, not points or other made-up currencies. What you see is what you get! To withdraw cash from your account, follow instructions here.
That's all it takes – Happy shopping!