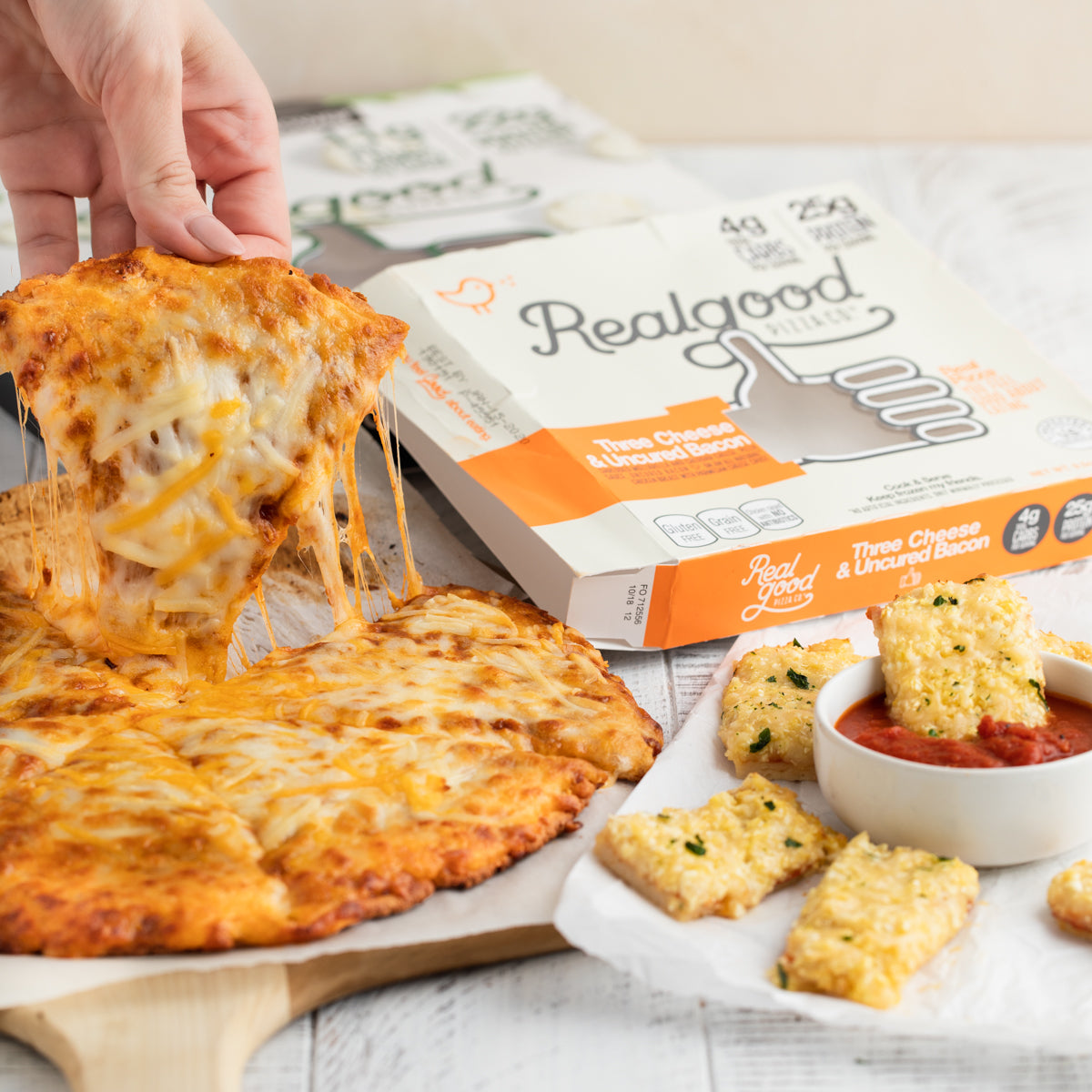 Happy National Cheese Pizza Day!
Did you know there are nearly 10 different types of cheeses that are most commonly used on Pizza? 
So why did we choose Mozzarella? 
Mozarella is more than just an amazing taste and beautiful texture. It's actually loaded with calcium and vitamins—like Biotin and Niacin. 
Biotin, also know as Vitamin B7, is one of women's favorite vitamins. It aids in nail growth, hair growth, and healthy skin. But did you also know that it can also lower blood gluose in diabetics? 
Niacin, or Vitamin B3, is an amazing vitamin that helps convert fat into energy! In a nut shell, it is full of enzymes that turn your body into fat-burning mode :) 
That's just one of its benefits—Niacin also aids in lowering LDL (or "bad") cholesteral, protects skin cells, boosts brain function, and helps prevent heart disease.
We try our best to not only make products that are low carb, but are also made with the best ingredients, from the crust to the toppings. We've chosen Mozzarella as our primary cheese for all the health benefits that comes along with it's amazing taste; so you'll not only feel good while eating it, you'll feel even better AFTER eating it as well :) 
Here's an awesome Cheese Pizza Garlic Stick recipe to try at home! 
ingredients
1 Real Good Foods Cheese Chicken Crust Pizza
½ c cauliflower rice
1 egg yolk
¼ c parmesan cheese, grated + more for topping
½ tsp garlic powder
⅛ tsp garlic salt
Directions
Preheat oven to 425F and prepare a pan with tin foil and place the pizza in the center (still on the cardboard).
In a large bowl, stir together the cauliflower, egg, cheese, garlic powder, and salt. Press the mixture over the cheese pizza and pack it tightly. Top with more parmesan cheese. Bake for 30-35 minutes.
Cut into sticks and serve.
Happy National Cheese Pizza Day!