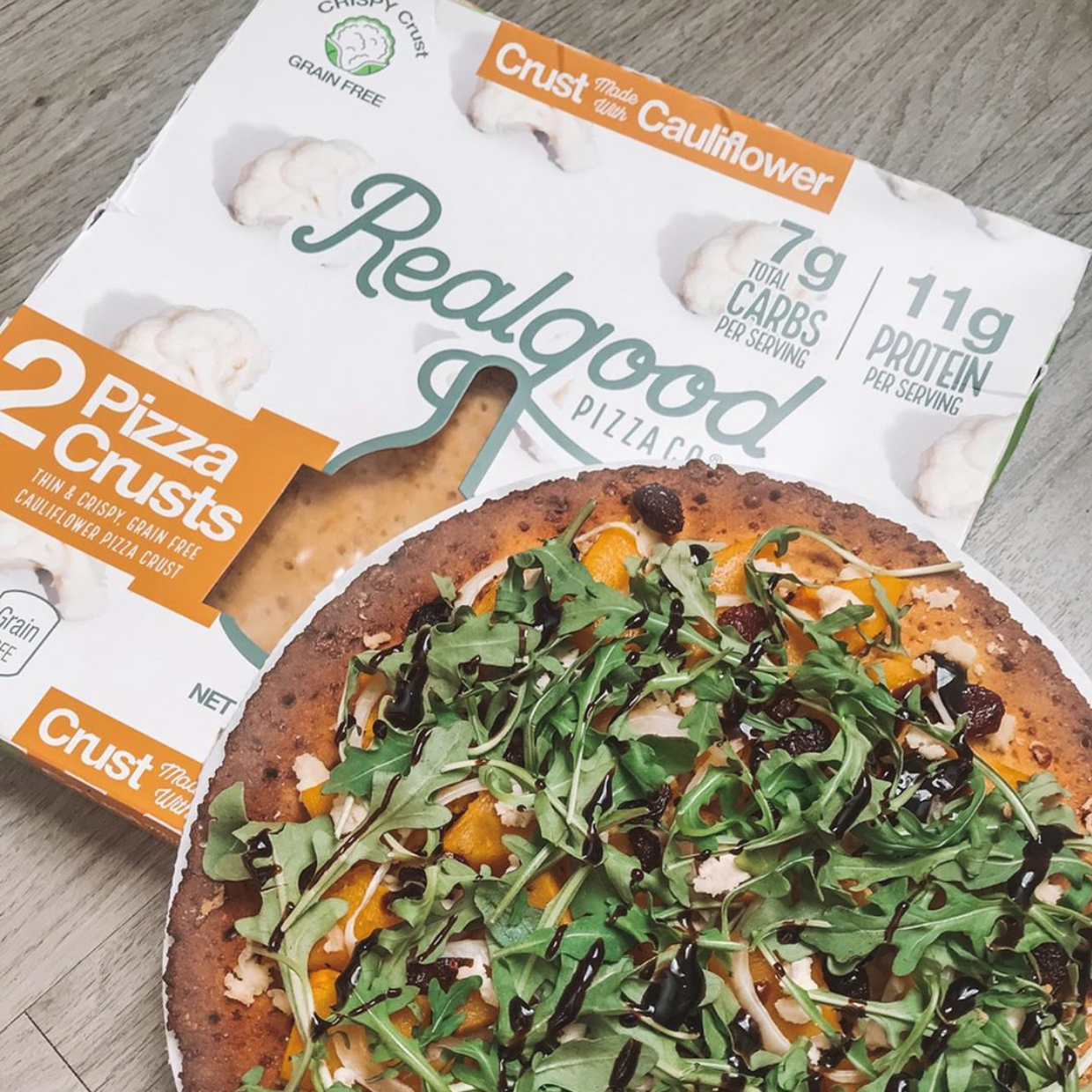 Influencer Spotlight: @kaileylindseyfit and Butternut Squash Pizza
Our #RealGoodFam is near and dear to us, their recipe innovations utilizing our products are often times too good not to share! OUr stand alone Superfood and Cauliflower Crusts offer a versatile base for any pizza! Check out more vegetarian pizza recipes utilizing our crusts.  
@kaileylindseyfit presented her "Butternut Squash Pizza" to her followers via Instagram featuring our Cauliflower Crust 2-Pack 
Interested? Here's the details! 
Ingredients: 
- Real Good Food's Cauliflower or Superfood Crusts
- 1/4 cup Ricotta
- 1/2 Sweet Onion (sliced) 
- 1 Butternut Squash 
- Salt and Pepper to taste 
- Cranberries
- Arugula 
- Balsamic Glaze
- Perforated Pizza Pan 
Directions: 
1. Preheat oven to 400 degrees F. 
2. Begin prepping your squash. Cut squash in half vertically. Slice away from all exterior skin from both sides of squash to peel. 
3. Place your 2 peeled halves of squash face down on a cutting board and slice into about 1/4 inch discs 
4. Lay squash pieces onto baking sheet lined with foil or parchment paper and sprinle with salt and pepper
5. Roast in oven until brown and slightly carmelized, about 20-30 minutes - flipping halfway through.
6. While that is cooking, slice the sweet onion. 
7. Remove your crust from packaging and place on a perforated pizza pan.
8. Remove butternut squash from oven to cool slightly.
9. Spread ricotta base evenly across your crust. Add onion slices, prepared butternut squash and cranberries 
10. Season to taste. Kailey added salt, pepper, and garlic powder. 
11. Bake for 11-12 minutes 
12. Remove from oven and and allow to cool for about 10 minutes
13. Top with desired amount of arugla and crumble remaining ricotta on top. 
14. Finish with a balsamic drizzle and enjoy! 
Kailey is an active fitness trainer based in Nashville. You can find Kailey (@kaileylindseyfit) on Instagram, showcasing her favorite workout circuts and fitness-focused brands! Need a restock on crusts? Use code "kaileylindseyfit" at checkout! 
The camera eats first...
Did you try this recipe out? We'd love to see! Be sure to tag @realgoodfoods! 
Instagram, Facebook, YouTube, Pinterest