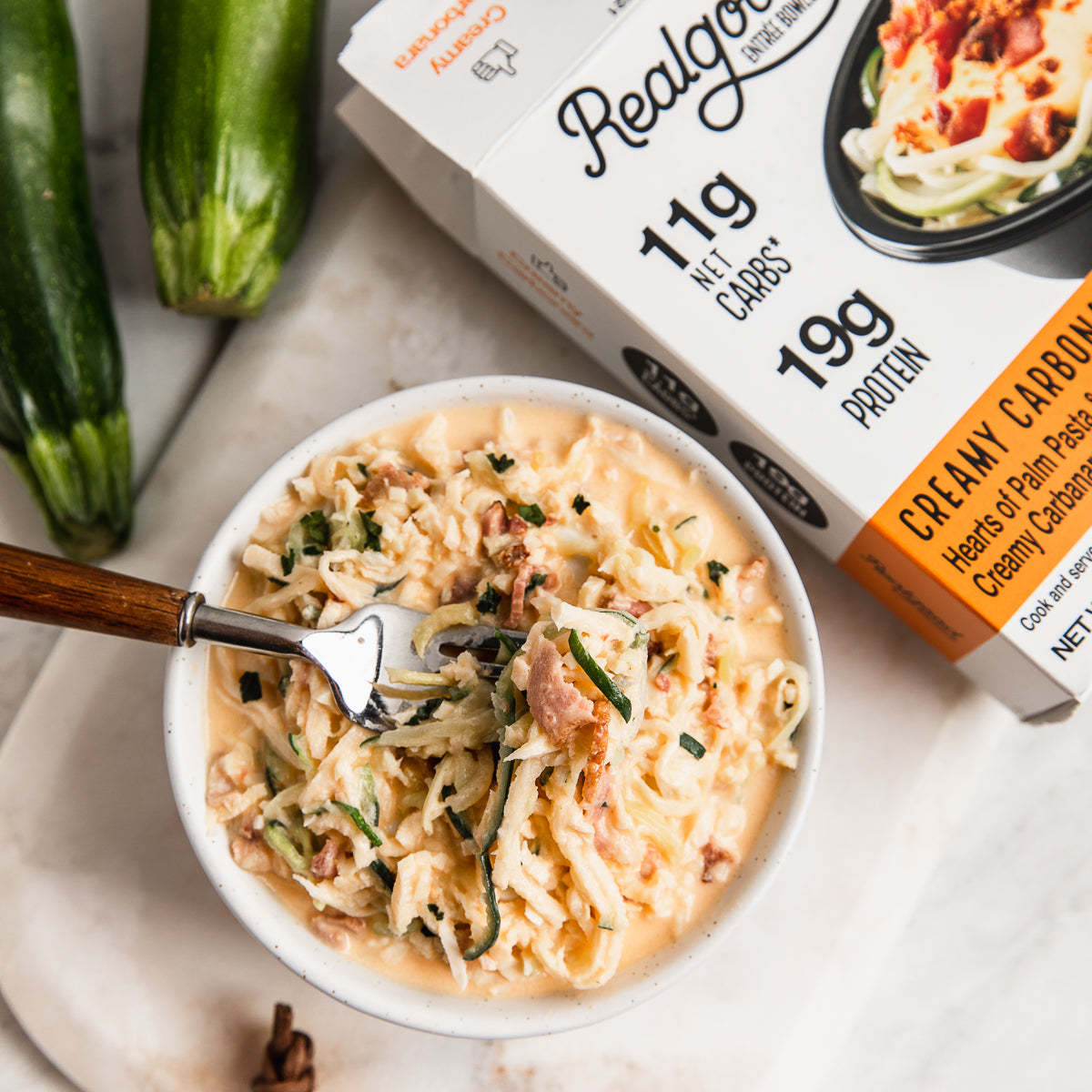 NEW Entree Bowls: Creamy Carbonara
Our new Entree Bowl takes the "carb" outta Carbonara...but it still delivers the same rich, creamy flavor you're craving. 
How? Well, we're spilling all the deats about our low-carb Creamy Carbonara Bowl today! Starting with what's inside our grain free and gluten free Creamy Carbonara Bowl.
Compared to most Carbonara recipes with high-carb noodles and processed flours, our Creamy Carbonara Bowl uses vegetable-based, hearts-of-palm noodles with spiralized veggies. Those are topped with a creamy cheddar sauce and - one of our favorite parts - smokey bacon!
And since our Creamy Carbonara Bowl only contains 11g of net carbs and is packed with 19g of protein, you'll feel energized and satiated after eating...instead of sinking into a carb coma. 
What The Real Good Fam Is Saying About the Creamy Carbonara Bowl
We've said it before and we'll say it again...we LOVE hearing from YOU when you eat our foods and how they fit into your busy lives! 
So don't be shy! Tag us in your stories or your posts, like Brenda did below. 
We can't wait to hear how you bowl RGF style, whether that's by digging in during your lunch break at work or making our bowl your hot date on a Saturday night.
To try our low-carb Creamy Carbonara Bowl for yourself, visit your local Kroger family store or Albertson's and Safeway family store. Or use our Store Locator here to find all our Entree Bowls in a store near you.
And don't forget to let us know on social media what you think after you dig in!