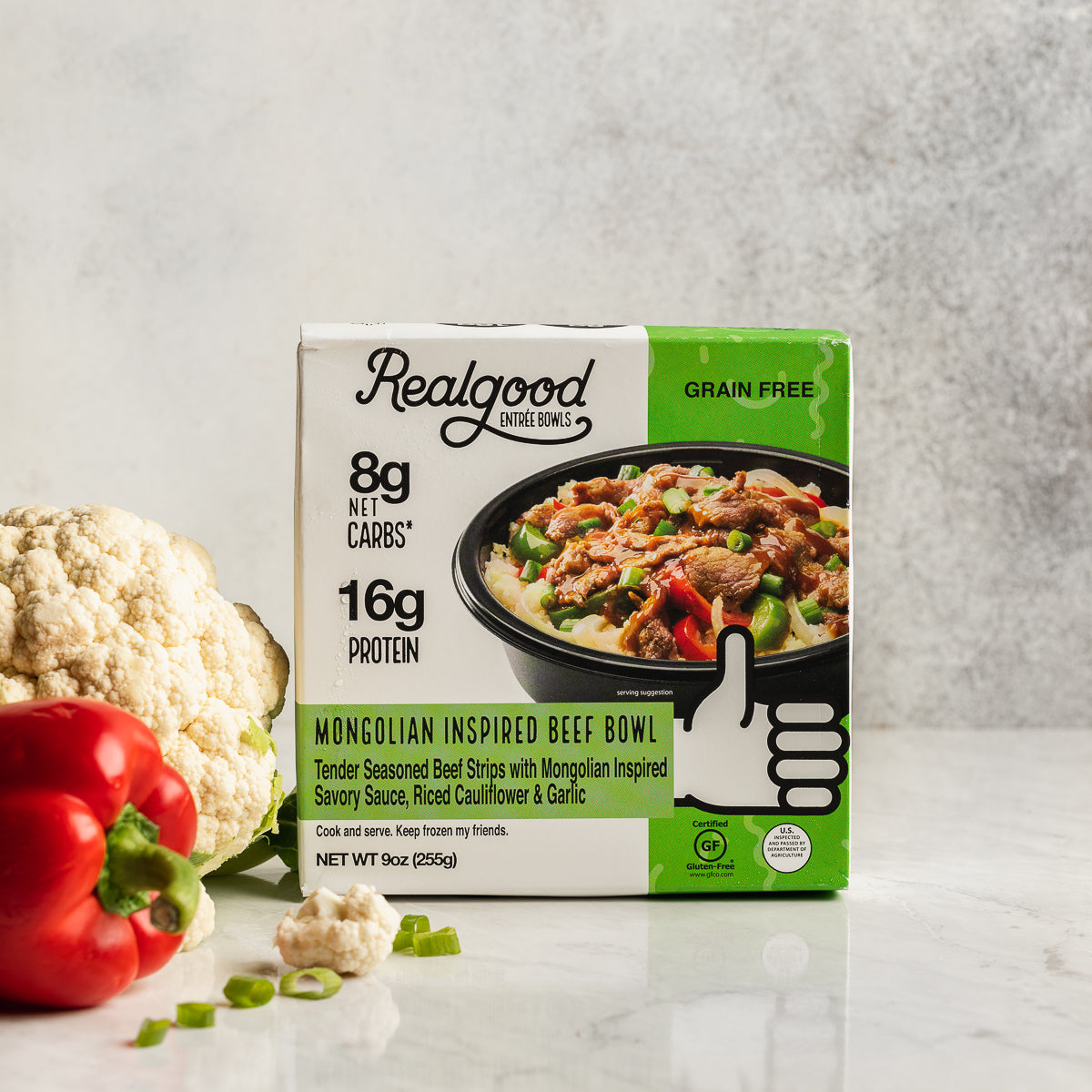 NEW Entree Bowls: Mongolian Beef Bowl
Wanna BEEF up your work lunches without spending hours in the kitchen? Then you'll love our new grain free Mongolian Beef Bowl!
Unlike other readily made meals with rice or enriched flours, our grain free and gluten free Mongolian Beef Bowl is made with low carb cauliflower rice and four other main ingredients:
Cooked and sliced all-natural beef
Fresh bell peppers
Green onions
A sugar-free Mongolian-Inspired Sauce!
And in case it doesn't already sound too goo to be true, our gluten free Mongolian Beef Bowl is only 160 calories and 8g net carbs. Plus, it's packed with 16g of protein! Hellooooo lunch (or dinner) of our low carb dreams...
When To Eat Our Grain Free Mongolian Beef Bowl - According to the Real Good Fam!
We've LOVED hearing from you how you've enjoying our new Entree Bowls...and at least by the posts and stories you're sharing, these no bad time to eat 'em. But some of your favorite times to dig in include:
During lunch, especially at work! Our entree bowls cook in minutes in the microwave, so they're perfect for when you don't have much time or cooking equipment handy.
For dinner after a lonnng day (and lately in 2020, what days aren't long?!?)
On the weekends...cuz it's always a real good time when our Entree Bowls are involved!
To get your hands on (and forks or chopsticks into) our new grain free Mongolian Beef Bowl, visit your local Walmart or Kroger family store. Or use our Store Locator here to find all our Entree Bowls in a store near you!
Let us know in the comments...or share your bowl on social media and tag us!