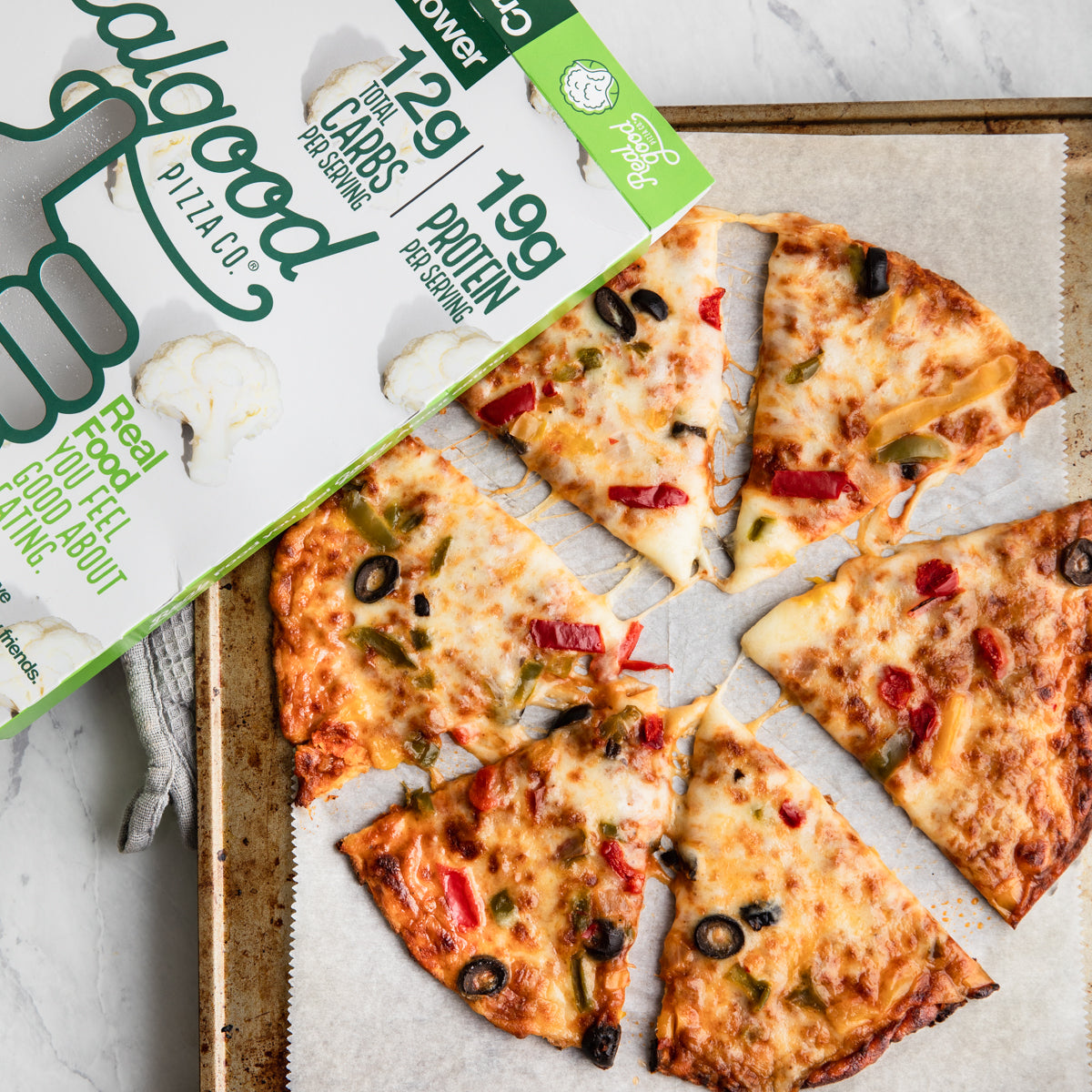 Real Good Foods Makes Pizza for Diabetics
Individuals living with diabetes must make intentional food choices to properly maintain a balance in blood sugar levels. Generally, diabetics are advised to avoid processed/junk foods which may cause an imbalance in blood sugar levels. Given the increased regard reflecting the glycemic index of foods, diabetics tend to avoid foods such as pizza, especially frozen pizza. 
We're here to help folks with diabetes reintroduce the foods they love to their diet, like pizza! 
For people with diabetes, glucose levels in the blood are persistently elevated, meaning, they must constantly monitor for fluctuations. When we consume carbohydrates, our bodies break these "carbs" down into glucose, which in turn, raises levels of glucose in the blood.
There are three types of carbohydrates in food: starches, fiber, and sugar.
There are two types of sugars: naturally occurring sugars such as those in milk and fruit and added sugars, typically added while processing foods such as canned fruit.
Fiber comes from plant-based foods like vegetables. On the nutrition panel, we review these three values as "total carbohydrate". People living with diabetes should avoid food that is high in "total carbohydrates" and instead opt for alternatives with a more balanced nutrient offering from protein, fat, and carbohydrates.
Cauliflower is a low-glycemic index food, making it a wonderful substitution for the traditional, carbohydrate-dense, pizza crust. 
Keep in mind 1/4 of a traditional household brand frozen pizza has 32g total carbohydrates, Real Good Foods Cauliflower Crust Pizza contains 12g of total carbohydrates. Competing cauliflower crust frozen pizza brands weighed in at around 25g of total carbohydrates, offering less of a substitute for those living with diabetes.
Cauliflower crust pizza takes longer to work its way into the bloodstream than the carbohydrate-dense crusts. Cauliflower crusts do not have the complex carbohydrate effect that traditionally spikes glucose levels hours later. Our cauliflower crust does not contain rice flours or tapioca starch. We utilize eggs, cheese, and cauliflower, to make our crust, keeping the carb count low, with REAL ingredients, just for you!
Remember to talk to your doctor before adding any new food items to your diet. As a new diabetic, it is recommended you begin working with a dietitian or registered nutritionist to create a dietary plan that works best for you! Remember that eating well and prioritizing activity within your daily routine are important ways to support your diabetes management plan.