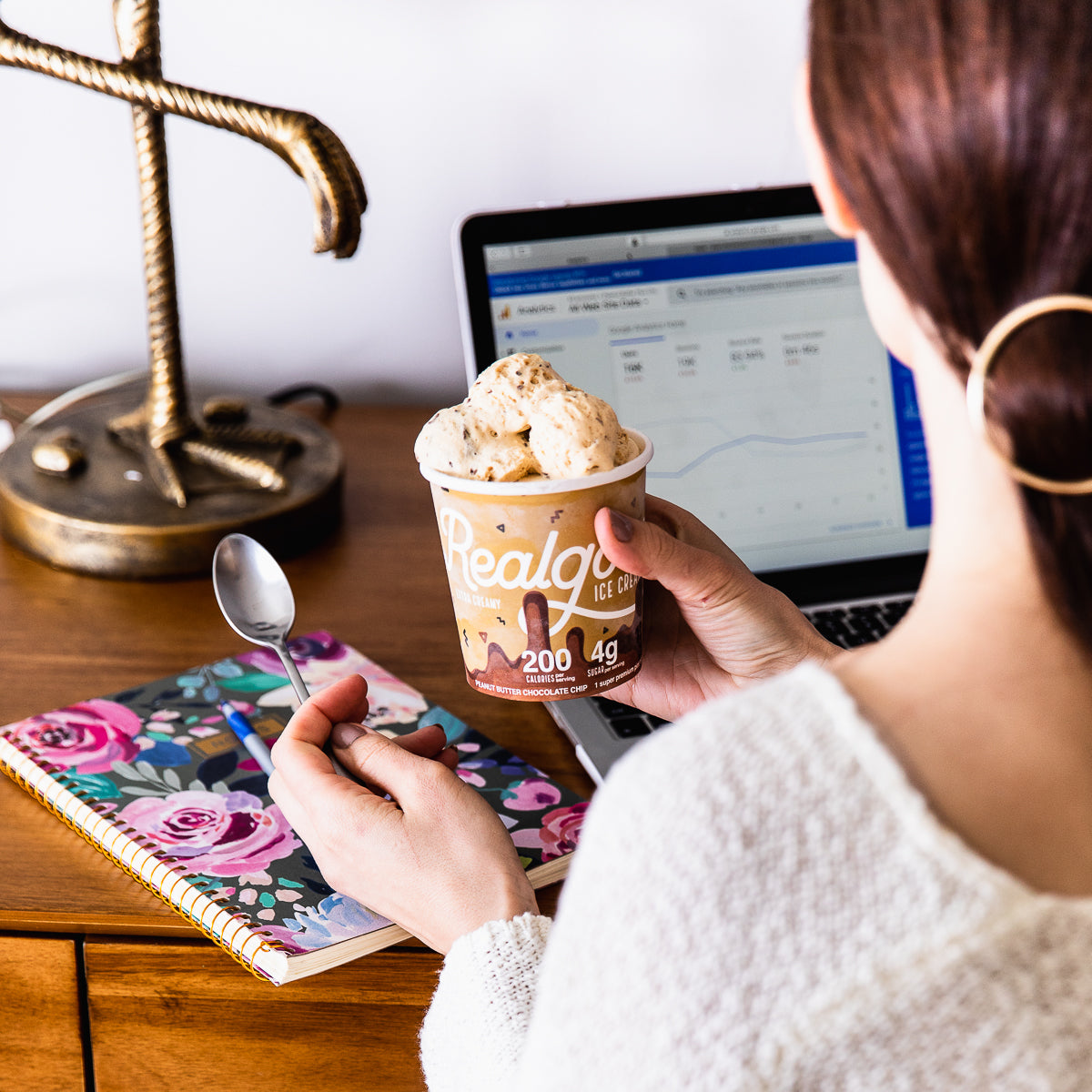 Real Good Home
Here at Real Good Foods, we hope to inspire you to live your best while at home; through our products and beyond.
Of course, you already know our better-for-you Ice Cream and Cauliflower Crust Pizza are go-to's for a cozy night in. This 2020, we're spending even more time at home - we are working from home, getting resourceful with our workouts and sharing more recipes than ever! What are you doing to have fun and stay well at home? 
Are you exercising? Our #RealGoodFam, Roy & Sandra Ross (@ketokonduct), hosted a 30-minute workout via @realgoodfoods Instagram Live!
Here's a recap in case you missed it!
We also made our TikTok debut! We've had some fun with the trends...
RGF-ied Dalogna Coffee
"Dalogna Coffee" struck the internet in the early months of 2020. Users whip instant coffee with sugar to form a thick, concentrated, fluff. We had to try it out! With one modification, of course ;) 
 Ingredients: 
- 2 tbsp Instant Coffee
- 2 tbsp Sugar (we used truvia) 
- 2 tbsp Hot Water
- 2 tbsp Real Good Food's Ice Cream 
- 3/4 cup Milk 
Directions: 
1. In a bowl, combine instant coffee, sugar, and hot water. Whisk. The goal is to create an extremly thick, airated, fluff. This will take about 10 minutes. Pro Tip: if you have an electric mixer, use it! 
2. Once you've formed a fluff, set aside. 
3. Combine ice cream and milk in a large glass, Mix until fully incorperated. Add ice. 
4. Top with your coffee and enjoy! 
From there, we couldnt resist the "Choose Your Character" Challenge. Which one are you? Which one is your best friend? Your parent? 
We craft our products in an effort to please the whole family! If you havent gotten them on board yet, maybe these recipes will help! 
- French Toast Breakfast Sandwiches 
If you're making fun, innovative and crazy recipes, we want to hear from you! Show us how our products help you live #realgood at home for a chance to be featured on our social media! Check out our recipes tab on the blog for more ideas. 
Be sure to tag @realgoodfoods! 
Instagram, Facebook, YouTube, Pinterest