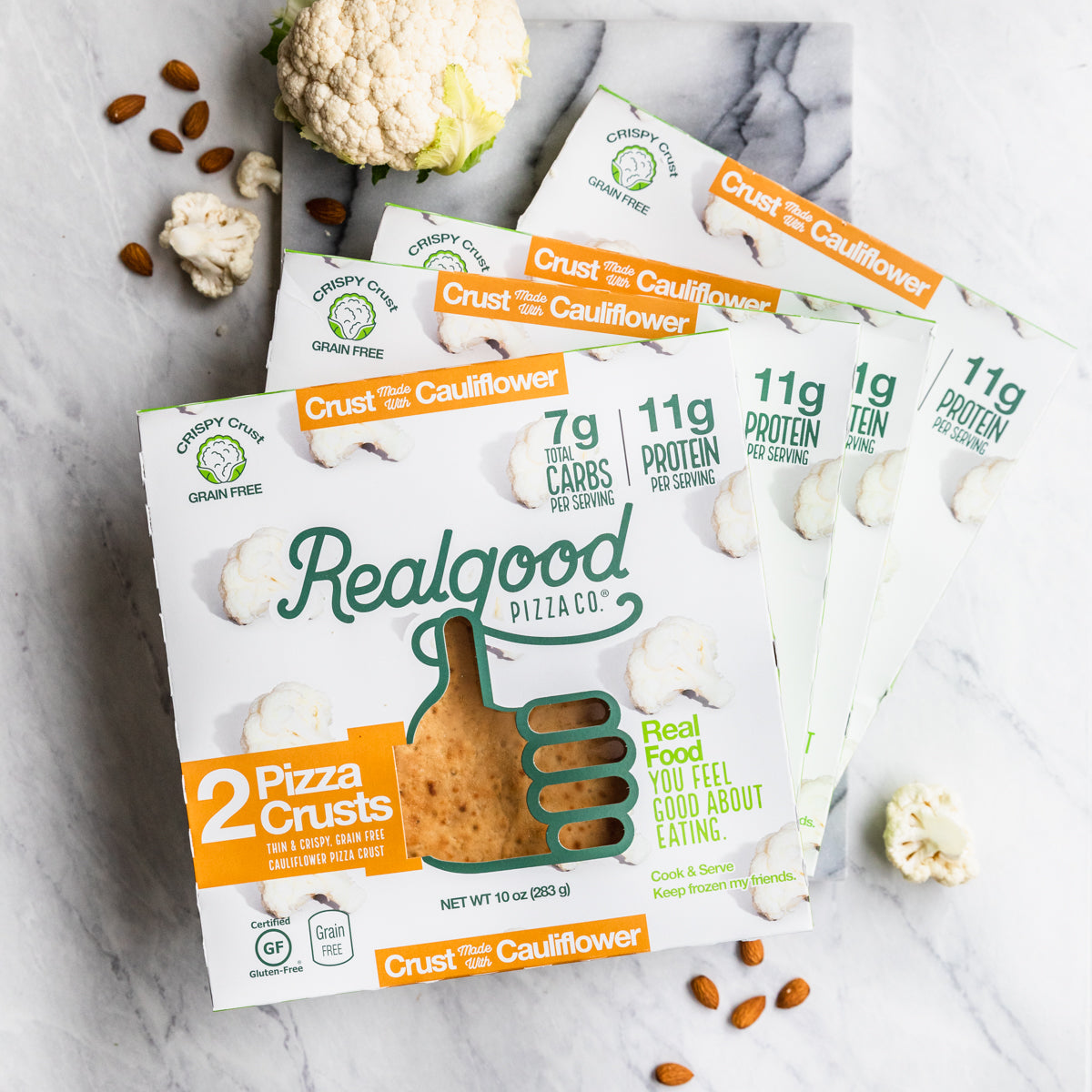 Influencer Spotlight: @thestairlady and Keto Mexican Pizza
We partnered with some of your favorite #RealGoodFam to bring you a special recipe idea via Instagram LIVE.
@thestairlady presented her "Keto Mexican Pizza" recipe in a 30-minute segment featuring our Cauliflower Crust 2-Pack via @realgoodfoods IG LIVE.
Here's a recap, just in case you missed it! 
Ingredients: 
- Real Good Food's Cauliflower or Superfood Crusts
- 1 lb Ground Beef
- Taco Seasoning
- Salt
- Mexican Blend Shredded Cheese (as much or as little as you'd like. Recommended amount: 2 cups) 
- Marinara Sauce 
- Your favorite Hot Sauce
- Shredded Lettuce
- 1/3 cup Black Olives (sliced)
- 1/3 cup Jalapenos (fresh or pickled. Recommended: both) 
- 1/3 cup Diced Tomatoes
- Sour Cream
- any other topping you'd like (onions, peppers, etc.)
Directions: 
Pre-heat your oven at 400 degrees F, remove your desired crust from packaging and apply to a perforated pizza pan.
Once the oven has reached 400 degrees, pre-bake the crust for 5 minutes to get it extra crispy.
While that is baking, cook ground beef using 1 package of taco seasoning.
For the base, mix about 3/4 C marinara sauce with 1/4 C hot sauce. Once the beef is cooked, set aside.
Grab your toppings! Cover your crust with the base sauce. Add shredded cheese and then the ground beef, jalapenos, and olives.
Pop the pizza back into my oven for an additional 10-12 minutes.
Once that is done, add your final toppings: shredded lettuce, diced tomatoes, sour cream, and more hot sauce. 
Elena lost 100 pounds in 1 year with the ketogenic diet! You can find Elena (@thestairlady) on Instagram and YouTube, showcasing her ketogenic meals, exercise routines, and everyday realness! Need to restock on Real Good Foods? Use code "THESTAIRLADY" at checkout for 15% off. 
The camera eats first...
Did you try this recipe out? We'd love to see! Be sure to tag @realgoodfoods! 
Instagram, Facebook, YouTube, Pinterest