Gluten-Free Bacon Wrapped Stuffed Chicken Stir Fry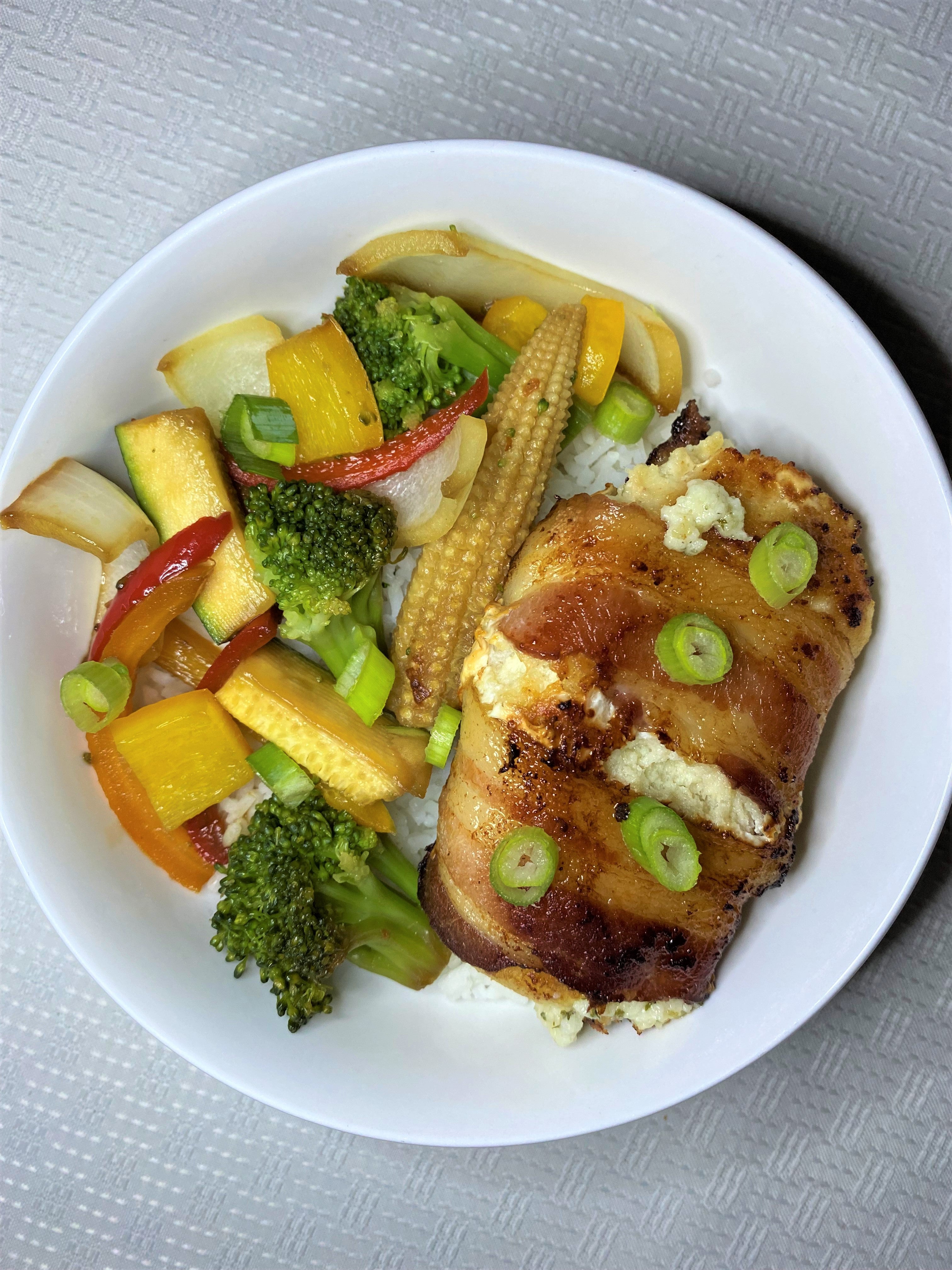 Gluten-Free Bacon Wrapped Stuffed Chicken Stir Fry
Everybody loves a quick and easy dinner. That's why we're here to share this bomb recipe that the whole fame will be craving!
With our NEW Creamy Spinach and Artichoke Bacon Wrapped Stuffed Chicken now at Sam's Club, this is certain to make your tastebuds bust a move. Not only is this dish colorful, but it's also gluten-free, and jam packed with 34g protein. Grab your apron, and let's get rollin'!
Instructions
For Our Gluten-Free Bacon Wrapped Stuffed Chicken Stir Fry
First, preheat the oven to 375 degrees. Place your Bacon Wrapped Stuffed Chicken on a baking sheet and cook for 36-38 minutes, making sure to flip halfway through. OR, if you have an air fryer, cook at 350 degrees for 26-28 minutes, making sure to flip halfway through.
While your chicken is cooking, cut up your favorite veggies. We used bell peppers, onions, zucchini, broccoli, and baby corn. Place in a pan and drizzle the avocado oil. Next add in your gluten-free soy sauce, garlic, honey, and red pepper flakes. Stir and pan fry for 5 minutes. Next turn the burner to simmer and cover for another 5 minutes.
Cook your favorite rice or cauli-rice and add to a bowl. Top with your veggies and your Bacon Wrapped Stuffed Chicken. Garnish with chopped green onions.