Gluten Free Cheesy Breakfast Enchilada Bake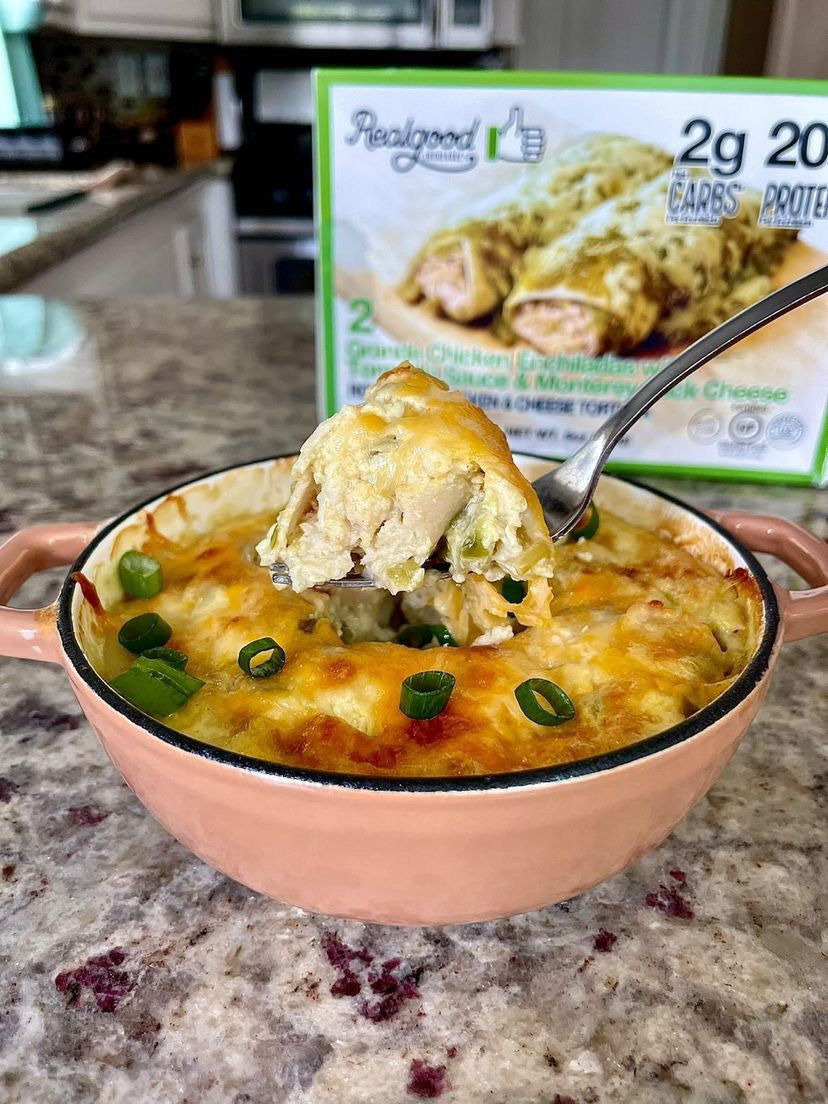 Gluten Free Cheesy Breakfast Enchilada Bake
Start your day off with this low carb and high protein, gluten free breakfast bake! Made with our Grande Enchiladas -- 2g carbs and 20g protein -- this recipe is easy and takes less than 35 minutes.
This low carb breakfast recipe is extra special because it was made by one of our amazing RGF fam members, @rhythm.kitchen on Instagram. She also has a blog filled with easy, low carb, recipes -- check that out here!
And if you need to stock up first, find our Grande Enchiladas at your local Costco, Publix, and Kroger Family Store.
Ingredients
For Our Gluten Free Cheesy Breakfast Enchilada Bake
Real Good Foods Grande Enchiladas
1 Egg
2 Tbsp Heavy Cream
1 Tsp Chili Powder or Cumin
1/2 Cup Shredded Cheese
Salt and Pepper to Taste
Instructions
For Our Gluten Free Cheesy Breakfast Enchilada Bake
Preheat oven to 375 degrees.
In a bowl, mix together egg, cream, and spices. Cut frozen enchiladas into 11/2 inch chunks. Place enchilada chunks in a casserole dish or a ramekin. Pour egg mixture over the enchiladas and top with cheese.
Bake for 30-35 minutes. Let cool for 3 minutes and enjoy!
Where to Find Our Low Carb Grande Enchiladas
You can find us in a store near you by using our store locator. Thank you @rhythm.kitchen on Instagram for this delicious recipe! Make sure to check out her blog here for other amazing recipes. You can also find us on Instagram and Facebook where we post new product updates, daily giveaways, recipe videos, and more!