Gluten Free St. Patty's Day Salad and Parmesan Crusted Stuffed Chicken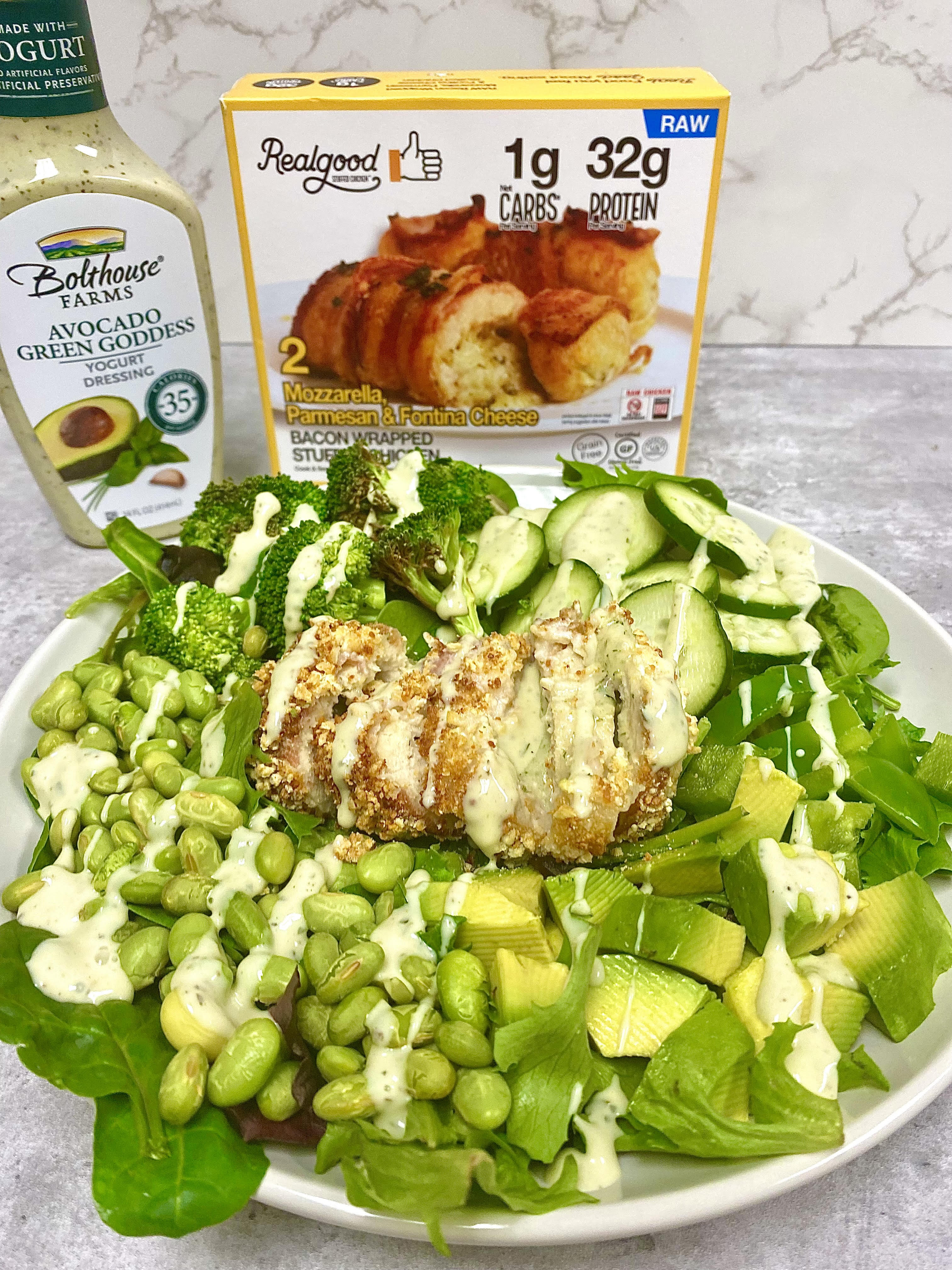 Gluten Free St. Patty's Day Salad and Parmesan Crusted Stuffed Chicken
We're keepin' it REAL tasty with this gluten free, low carb, salad and parmesan crusted stuffed chicken. Made with our Bacon Wrapped Stuffed Chicken -- on sale NOW at your local Costco -- this meal is perfect for that St. Patrick's Day vibe.
This meal is bacon our dreams come true because it's guilt free with just 1g carb and 32g protein. So stop by your local Costco today to stock up on our Bacon Wrapped Stuffed Chicken while ya can!
Instructions
For Our Gluten Free St. Patty's Day Salad and Parmesan Crusted Stuffed Chicken
First, remove the Bacon Wrapped Stuffed Chicken from wrapper and cook in the air fryer at 350 degree for 15-20 minutes. Whisk together egg and minced garlic. Next, mix together gluten free breadcrumbs and shredded parmesan cheese. Dip the Bacon Wrapped Stuffed Chicken in the egg mixture and then cover in the breadcrumb and parmesan mixture. Cook the broccoli, edamame and coated bacon wrapped stuffed chicken at 350 degrees for another 8-10 minutes.
Dice the green bell pepper, avocado, and slice the cucumber. Add all veggies and salad mix to a bowl.
Slice the Parmesan Crusted Bacon Wrapped Stuffed Chicken and add to bowl. Top with Green Goddess dressing and enjoy!